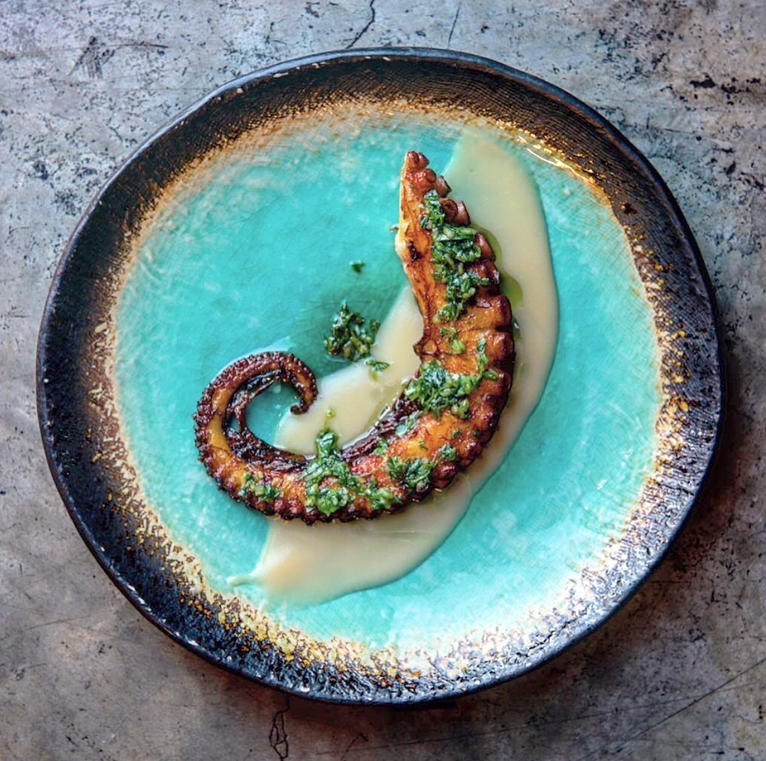 With its tender texture, meaty tentacles and delicate flavour, Octopus is a dish that pops up on many menu across Dubai. If you're a sucker for a cephalopod, you're in the right place. Here are 15 totally dreamy Octopus dishes you'll fall for, hook, line and sinker...
Chargrilled Octopus at The MAINE Oyster Bar & Grill
Sure, oysters are obviously the highlight at this North American spot in JBR. But the Shellfish aren't the only thing New England has to offer – as evidenced by the lip-smacking chargrilled Octopus. This starter iOS served with puttanesca sauce and sunchoke puree, which gives it an umami-rich flavour we just can't resist.
Fremantle Octopus at 3 Fils
Small but mighty, 3 fils has long been a must-visit restaurant in Dubai, and with good reason. We're not saying the Fremantle Octopus is the only reason it pops up in our best Asian restaurant list time and time again, but it's definitely a factor. Visually the dish is stunning, with a single tentacle served on a potato and leek puree with gremolata, and you won't be able to resist snapping a picture or two before tucking in. The only thing better than the way it looks is the way it tastes.
"We're not saying Fremantle Octopus is the only reason it pops up in our best Asian restaurant list time and time again, but it's definitely a factor"
Grilled Octopus at Mythos Kouzina & Grill
Our best Greek restaurant for the second year in a row, Mythos Kouzina & Grill is one of the top eateries in JLT right now. The grilled Octopus is cooked perfectly, and the simplicity of the dish is what makes it. You'll leave feeling happy and full on every visit – and almost as if you've had a charming mini vacation to Greece.
Grilled Octopus at SLAB
While the location might have changed from La Mer to Mercato Mall, the concept behind SLAB remains the same: food you love to eat. And we love to eat the grilled Octopus here, which has a smoky flavour thanks to the aji panda chilli and is served with papa amarilla (A Peruvian Potato) and chimichurri sauce. A dish that packs a flavour punch – just like everything else from Omar Rodriguez.
Grilled Octopus with matte Potatoes and yuzu dressing at La Cantine du Faubourg
Love La Cantine? The popular French Restaurant (and former Time Out Dubai award-winner) has reopened after a makeover to a fresh new look. One of our favourites on the menu remains the grilled Octopus. The tangy yuzu dressing perfectly complements the sweet Octopus, and it's easily one of our go-to dishes on any visit to this chic Parisian spot.
Mauritian warm Octopus salad at MasterChef, The TV Experience
While the concept of the restaurant is undoubtedly gimmicky, that shouldn't out ou off – The MAsterChef judges really do know what they're talking about. The Mauritian warm Octopus salad – the creation of MasterChef UK champion Season 8's Shelina Permalloo – is a real winner from a menu filled with showstoppers. The Octopus is perfectly charred, and the whole dish is bursting with flavour. It also makes a spicy zingy change from the Mediterranean versions you see so often. We completely understand why Permalloo is a champion.
Polpo all brace at Fulvios
When curating Time Out Market at Souk Al Bahar, we wanted to showcase the very best in the city. So when we say Polpo all brace is a top dish to try, what we are really saying is that it is really tasty. The colourful plate, which has olives, pesto, creamy potatoes and peppers, is as tasty as it is photogenic (aka very). Make your way down to Time Out Market and order a plate of this today – you won't regret it.
Polpo alla brace, insalata di patate ed olive at Il Borro Tuscan Bistro
We probably don't need to tell you how much we love Il Borro Tuscan Bistro – it's our restaurant of the year 2021 after all. But if you're heading here anytime soon, we really must insist you try the grilled Octopus with potato salad. The Octopus is perfectly tender and the baby potatoes well seasoned with lemon parsley gremolata. Start your night on a real high with this to start.
Polpo all griglia at Alici
As a former winner of our best seafood restaurant award, and sister of our current restaurant of the year Il Borro Tuscan Bistro, you can expect nothing but the best from any dish at Alici. But the polio alla griglia is a real stand-out, with traditional potatoes switched out for lentils to add more texture, and perfectly grilled Octopus. It's the ideal dish for tucking into while you enjoy the view of the Marina from Bluewaters.
Polvo marinado com tomate e coentros at Lana Lusa
Wasl 51 is one of the city's hottest neighbourhoods right now, and it has some serious foodie credentials to back it up – including our best casual newcomer, Lana Lusa. This spot doesn't;t just serve up some of the best Portuguese food in Dubai, but some of the best food, full stop. The seafood here is exceptional, and the marinated Octopus is a must try. It's simple, served with tomato dressing and coriander, which means the Octopus is able to shine.
Pulpo rostizado at COYA
If you're looking for cephalopod with a Latino twist, COYA is your go-to. The pulp rostizado (aka crispy Octopus with Potato puree) is a banging dish that boasts tender Octopus on a bed of creamy potato. The roasted tentacle comes with creamy potato, botija olives, Amarillo chillies and smoked paprika for a plate packed full of flavour.
Salade de poulpe grille at carine
It takes a lot for us to recommend ordering a salad. But the grilled Octopus salad is one of the best Octopus dishes (and salads) in the city. Juicy, tender and packed full of flavour, you're in safe hands when you're dining with chef Izu. Go see for yourself.
Sliced Octopus salad at Twiggy by La Cantine
We will take literally any excuse to visit the Park Hyatt Dubai, with its sensational lagoon and jaw-dropping skyline views. And we think Twiggy by La Cantine is an excellent one, particularly if you're a fan of Octopus. The original La Cantine already made it onto this list, and the options at Twiggy are just as great. The sliced Octopus salad is the perfect light starter, with peppers, rd onion and parsley, once you try it you'll be coming back for more than just the vibes.
Tako togarashi marinated Octopus at Mimi Kakushi
Since exploding onto the dining scene in March, this has become one of the trendiest spots in town. Its may not be a meaty tendril like other on the list, but this is a light, tasty way to enjoy the cephalopod (trust us). Folded carefully onto a skewer and steeped in flavour-packed marinade, these tasty khaki are grilled until perfectly charred and served with chive and yuzu togarashi glaze for a sweet yet zingy umami-laden bite.
Written by Time Out, Dubai
July, 2021